Home
Welcome to the official website of Pitz Quattrone.  Pitz's life and in turn, career, revolve around the Didgeridoo.  The Didgeridoo or Yidaki, as it is properly called in its native Australia, is the world's oldest musical instrument dating back tens of thousands of years.  This magical instrument has taken Pitz from the Arctic Circle to the Equator.

Performing with the Didgeridoo and passing on what he has learned about the instrument, has become one of Pitz's lifelong missions.  Pitz believes the Didgeridoo is the most musically flexible instrument and can be a critical component of any type of music on the planet.  Another mission is for Pitz to share the health benefits of listening, playing and absorbing the healing vibrations of the Didgeridoo.  He does this by teaching sleep apnea sufferers how to play Didge in order to drastically reduce apnea episodes and will soon open his Didgeridoo Vibroacoustic Experience studio.  This is where folks lie down on a specially designed sound table to listen, feel and soak in the vibrations of a mix of recorded music, gathered nature sounds and live Didgeridoo.  Pitz is moving towards opening his "Didgeridoo Vibroacoustic Experience" studio in cenrtral Vermont! Check out this video link for more details and also how you can help open the doors. Let's "Lie down and feel the sound". You can also help by sharing the campaign with your friends.
Listen/download Pitz's music click here  Movin' video click here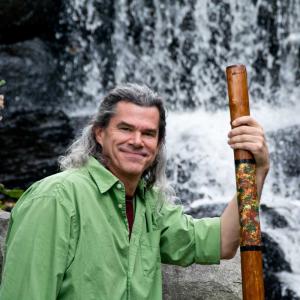 Massamba Diop of Baaba Maal's band says, "Pitz Quattrone in action, the man always give the best of him."
Pitz has been endorsed by David Dahwurr Hudson, General Manager of the Tjapukai Aboriginal Cultural Park, Queensland, Australia.
Pete Seeger once asked Pitz, "How do you keep breathing while you continuously play for so long?"  Answer: Circular Breathing 
---

                            Pitz's handcrafted Didges click here